Posted by
admin
on Oct 13th, 2021 in
Uncategorized
This webinar is presented by the Epilepsy Foundation of Metropolitan New York and sponsored by a non-commercial, unrestricted grant from LivaNova, Inc. [October 7, 2021]
Posted by
admin
on Sep 21st, 2021 in
Uncategorized

The Epilepsy Foundation of Metropolitan New York is proud to recognize its Professional Advisory Board Member, Patricia McGoldrick, NP MPA MSN, who is the recipient of the 2021 Association of Child Neurology Nurses (ACNN) Award for NP Excellence, to be presented in conjunction with the Child Neurology Society meeting at the end of this month. Patricia enjoys decades of notable professional achievement in Child Neurology. She is most deserving of this notable award.
Additionally, Toni Kavanagh, BSN, MSHA, MBA, CNRN is receiving the 2021 ACNN Claire Chee Award for Excellence in Child Neurology Nursing.
Patricia and Steven M. Wolf, MD received The Hero Award as the Distinguished Service Honorees at the 2018 EFMNY Annual Into the Light Dinner Gala. Toni will be receiving The Emma Rose Award for providing direct service to persons with epilepsy at the upcoming 2021 EFMNY Annual Into the Light Dinner Gala.
Please join the EFMNY Executive Director Elinor LaTouche, MPA, and the Directors and Professional Staff in saluting these two fine professionals.
For more information, please contact Chilton Harper, MPA at charper@efmny.org or 917-856-5717.
Posted by
admin
on Nov 5th, 2020 in
Uncategorized
Celebrating November 2020 National Epilepsy Awareness Month, EFMNY PAB Chair Dr. Blanca Vazquez and EFMNY Staff Professional Logan Devlin participated in the GMA conversation on the topic of Beyond Thriving: Epilepsy.
VIDEO LINK: https://fb.watch/913GaiIFIA/
Posted by
admin
on Dec 4th, 2015 in
Uncategorized
Infantile Spasms (IS), also known as West Syndrome, is a rare form of age-specific epilepsy that usually presents itself in children within the first year of life. Early diagnosis and treatment of Infantile Spasms is of the utmost importance, and in many cases can ensure a more positive prognosis and a better quality of life, and significantly increases the chances of achieving reaching normal child development milestones.
Watch the videos below and check out our blog to hear a firsthand account of what it's like to have a child with Infantile Spasms and to learn more about how Infantile Spasms (IS) are diagnosed, what signs to look for and what treatments are available.
In honor of Infantile Spasms Awareness Week, please share the videos below with friends and family in order to help us raise awareness about this rare form of epilepsy, and about the importance of early diagnosis and treatment.


NEXT UP: Part I of "When Seizure Types Change"  by Dr. Shahin Nouri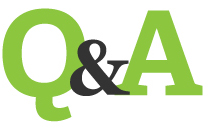 The team at EFMNY would like to thank you for your questions! After each post, we'll post answers from our experts to the most frequently asked questions we receive.  Please note that these Q&A post, like our provider articles, should not be taken as medical advice.  Each patient is unique.  For medical advice regarding your specific condition, please consult your doctor.
Q&A with Dr. Akila Venkataraman:
1. I was diagnosed with epilepsy at age 9 and I've continued to have seizures for more than a decade in spite of seeing a number of doctors and taking several medications. My parents and siblings are all healthy. Why are some people predisposed to have seizures while others are not? I've never even had a head injury.
While many people who have seizures may have a family history of epilepsy, having seizures depends mostly on the nature of an individual's brain cells. Some people have been found to have genes that make them more susceptible to having seizures than others, even if they are otherwise healthy.
2. You mentioned the social implications of being unable to drive due to seizures. I've been seizure free for 8 months, so my doctor cleared me to drive again. I was thrilled, but now every time I get behind the wheel, I'm paralyzed. I'm so afraid that this could be the day it comes back. How can I be sure I won't have another seizure while driving? (more…)