Summary:
– The overall intellectual and neurodevelopmental outcome in children with infantile spasms is generally poor
– The long-term prognosis is directly related to the underlying cause of the seizures
– Better developmental outcomes are noted in patients without an identified cause (cryptogenic/idiopathic)
– Although the spasms tend to resolve by early to mid childhood, a majority of the children develop other types of seizures and epilepsies.
– There is a better outcome noted in those patients treated earlier in the course of their seizures, and in those that have an early and sustained response to treatment.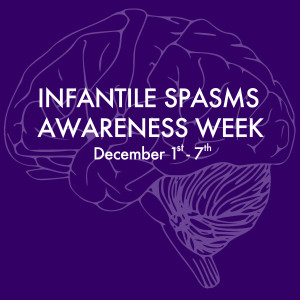 Infantile Spasms
The long-term prognosis of patients with infantile spasms has been studied extensively over the years. Many studies have examined the outcome of infantile spasms including neurodevelopmental and intellectual disabilities, prognostic significance of the EEG, and the development of chronic epilepsy.
The consensus of all of these studies is that the overall outcome, with regards to chronic epilepsy and neurodevelopmental disability is generally poor in patients with infantile spasms.
Chronic Epilepsy
Epileptic spasms usually resolve, latest by mid-childhood, in the majority of patients. Infrequently, spasms may persist in adulthood. Even if the spasms resolve, it has been found that 50-70% of the patients will develop other seizure types. Approximately 50% of the patients with a history of infantile spasms go on to develop chronic intractable epilepsy. There is a strong relationship seen between a history of infantile spasms (IS) and development of Lennox- Gastaut syndrome, with 18-50% of IS patients developing Lennox-Gastaut syndrome.
EEG
While features of hypsarrhythmia define the EEG of patients with infantile spasms, evidence of this abnormality on the first EEG was seen not to influence the response to treatment. However, if the hypsarrhythmia persisted despite treatment, or was atypical and/or asymmetrical, this was seen to adversely influence the long-term outcome.
Neurodevelopmental disability
The most important factor in predicting the cognitive and developmental outcome of patients is etiology.
Mental retardation occurs in about 70 % of patients with infantile spasms, usually involving severe to profound retardation and often associated with other psychiatric problems. Other neurological deficits, such as cerebral palsy, may be seen in about 30-50% of patients.
Most children with infantile spasms experience slowing, plateauing, or regression of their developmental progress.
Studies have consistently shown that infants with symptomatic infantile spasms are at much higher risk (86-90%) of developing mental retardation, autism and other behavioral and cognitive disabilities, compared to infants with idiopathic infantile spasms. Symptomatic infantile spasms, in particular, are associated with autism spectrum disorders (ASD) in up to 35% of cases.
10-20% of patients with normal development prior to the start of their spasms will have normal mental function or only be mildly impaired long-term. 28-50% of patients with idiopathic infantile spasms will go on to have normal or borderline cognitive development.
Mortality
The premature death rate for infantile spasm ranges from 5-31%. Most of the deaths (61%) occurred at or before age 3 years, while only 10% occurred after age 20 years.
In most cases, the mortality is seen to be a result of the underlying neurological cause of the infantile spasms.
Factors for a favorable outcome in Infantile Spasms
• Cryptogenic or idiopathic cause
• Age of onset of spasms > 4 months
• No atypical or partial seizures
• Typical EEG abnormalities – hypsarrhythmia
• Early onset of treatment
• Early and good response to treatment