Posted by
EFMNY
on Oct 22nd, 2015 in
Epilepsy
,
EpilepsyNYC
The Epilepsy Foundation of Metropolitan New York is excited to announce the first ever Epilepsy NYC Studio E Art Therapy for Teens!
Made possible through the generous support of Lundbeck, Studio E offers a unique way for people with epilepsy to socialize with others and open up honestly about daily challenges in a trusting, creative environment. Art therapy promotes self-expression and builds confidence. Recent studies have shown that Studio E improves quality of life and
self-esteem.
After the great success of the Annual Studio E Program hosted by EFMNY and supported by well-received public exhibitions, Art Therapist Melissa Diaz joins us once again to provide an 8-session group program, in the same open studio model, but now tailored specifically for teenagers with epilepsy.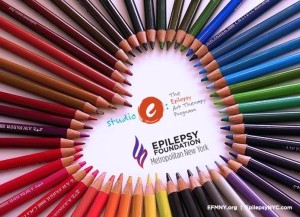 WHO: Teens ages 15-19
WHEN: Tuesdays after school beginning in late October 2015
(8 sessions)
WHERE: Mount Sinai Beth Israel's PACC at Union Square
To enroll or learn more please contact Katie Lorenzo at klorenzo@efmny.org or call us at 212-677- 8550.
The program is offered at no cost to participants. You must be 15-19 years old. Seating is limited and a phone interview with the art therapist is required.